Board of Directors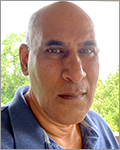 Sriram Subrahmanyan
Assistant Deputy Minister, Tax Policy Division
Ministry of Finance
[Appointed December 2016]
Sriram Subrahmanyan joined the Ministry of Finance in 1991. He has served as Assistant Deputy Minister of the Provincial Local Finance Division as well as Director of the Corporate Policy and Intergovernmental Affairs Branch for the Ministries of Children and Youth Services and Community and Social Services.
Sriram has worked on federal-provincial negotiations on fiscal arrangements and has led negotiations with municipal governments on program funding and transfer payments.
Sriram holds a MBA in Finance from the State University of New York at Albany.
Back to Board of Directors chart.