Board of Directors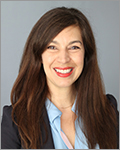 Nancy Mudrinic
Associate Deputy Minister, Office of Regulatory Policy and Agency Relations
Ministry of Finance
[Appointed April 2019]
Nancy Mudrinic is the Associate Deputy Minister of the Office of Regulatory Policy and Agency Relations in the Ministry of Finance. In this role, Nancy provides executive leadership and strategic planning to support the efficient and effective delivery of the government's key priorities including leading the ministry's regulatory and revenue-generating agencies.
Nancy previously served as Assistant Deputy Minister in the ministries of Training, Colleges and Universities; Infrastructure; and Tourism, Culture and Sport. She has also held various senior positions within the Ontario Public Service, including in Cabinet Office; the Ontario SuperBuild Corporation; and the Ministry of Transportation.
Nancy has an Honours BA in Economics and Geography, and a Master of Science in Planning, both from the University of Toronto.
Back to Board of Directors chart.