Board of Directors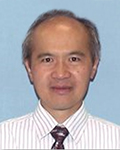 Ronald Kwan
Assistant Deputy Minister, Corporate and Electricity Finance Division
Ontario Financing Authority
[Appointed January 2013]
Ronald Kwan is the Assistant Deputy Minister, Corporate and Electricity Finance Division, Ontario Financing Authority and is Vice President of OEFC.
Ronald first joined the Ministry of Finance's Office of Economic Policy, in 1995, holding progressively senior positions; and providing analysis and advice in the electricity sector since 1998, including as Director of the Electricity Finance Branch from 2008 to 2012, and as Assistant Deputy Minister since 2012.
Ronald has provided analysis and advice on the financial aspects of the electricity sector including the financial restructuring of the old Ontario Hydro and stranded debt; financial analysis of Hydro One and Ontario Power Generation assets, including under rate regulation; nuclear supply options, including Bruce Power and refurbishment; and the implementation of the Ontario Nuclear Funds Agreement.
Ronald has an Honours BA in Economics from the University of Western Ontario and a Masters in Economics from Harvard University.
Back to Board of Directors chart.