Board of Directors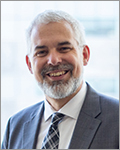 Stephen Rhodes
Deputy Minister of Energy
[Appointed October 2018]
Stephen Rhodes was appointed Deputy Minister of Energy in June 2018. He was also the Deputy Minister of Northern Development and Mines from May 2019 until July 2021.
Previously, he served as the Deputy Minister of Transportation, the Deputy Minister of Correctional Services, and the Ministry of the Attorney General's first Associate Deputy Minister, providing strategic oversight and senior executive leadership.
Prior to his appointment as Associate Deputy Minister, Stephen served for seven years as the Ministry's Chief Administrative Officer and Assistant Deputy Attorney General, Corporate Services Management Division.
During his tenure with the Ontario Public Service, Stephen has taken on increasingly challenging and complex roles leveraging his policy, operations and business expertise.
Stephen holds a Master of Science in planning from the University of Toronto, an Honours BA in geography from Wilfrid Laurier University and is a graduate of the University of Western Ontario's Ivey School of Business Executive Development program.
Back to Board of Directors chart.